This is an old revision of the document!
---
Table of Contents
Espressif ESP32
Espressif ESP32 Development Board
The HW-607 ESP32 Board with a CH340G Serial to USB chip.
ESP32 Development Board
https://dl.espressif.com/doc/esp-idf/latest/get-started/get-started-devkitc.html

Upload a Scetch
The Examples for the ESP32 become visible after selecting ESP32 DEV MODULE in the Arduino IDE.
Set the flashing speed to 460800 or lower.
Upload your scetch.

---
WeMos ESP32 OLED Board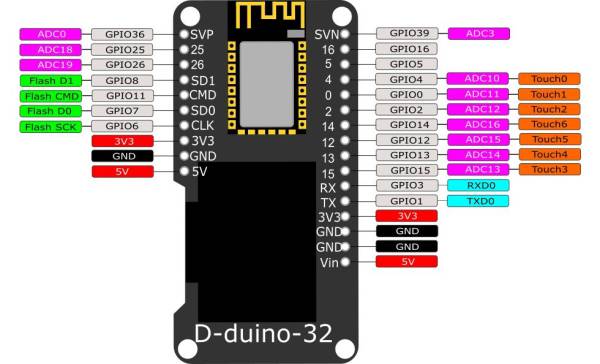 The OLED is connected to pin5 (SDA) and to pin 4 (SCL).
Librarie:
https://github.com/squix78/esp8266-oled-ssd1306
Board: ESP32 Dev Module
http://www.instructables.com/id/ESP32-With-Integrated-OLED-WEMOSLolin-Getting-Star/

---
Arduino core for ESP32 WiFi chip
https://github.com/espressif/arduino-esp32

Workaround for Arch Linux:

Install the latest Arduino IDE
 sudo pacman -S arduino
Install Git
 sudo pacman -S git
Download and run get-pip.py
 wget https://bootstrap.pypa.io/get-pip.py
 sudo python get-pip.py
Install PySerial
 sudo pip install pyserial
Make a folder in the Arduino folder
 sudo mkdir -p /usr/share/arduino/hardware/espressif
 cd /usr/share/arduino/hardware/espressif
Download ESP32 and run get.py
 sudo git clone https://github.com/espressif/arduino-esp32.git esp32
 cd esp32
 sudo git submodule update --init --recursive
 cd tools
 sudo python2 get.py
---
Programming the ESP32