Table of Contents
Paper PCB Shenzhen Ready
How to get real PCBs out of Paper PCBs?

Thanks to Budi Prakosa and Kaspar Emanuel there is this fantastic extension for Inkscape which allows you to export every freehand drawing from Inkscape into a KiCad file and that on the other hand makes it easy to make an proper PCB out of it:
https://github.com/badgeek/svg2shenzhen
Marc Dusseiller made the first awesome Shenzhen Pop Neuron from a Paper PCB: https://kitspace.org/boards/github.com/dusjagr/pn001_pop-neuron_shenzhenready/.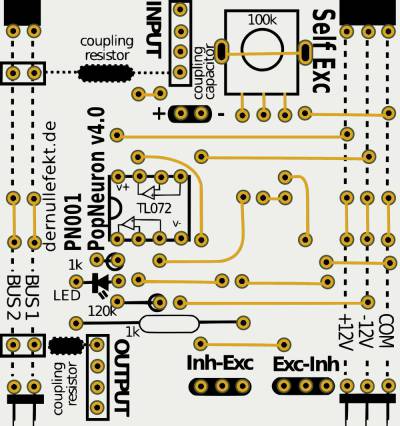 That's how I learned how powerful the SVG2Shenzhen in combination with the Paper PCBs is. One can have on one hand a super fast rapid prototyping system and on the other hand a way to get real PCBs made without any redesigning of the board.

---
Installation
Certainly one should firt install Inkscape (0.92) and KiCad (5.0.1).

Then one needs the latest version of "SVG to Shenzhen" for Inkscape: https://github.com/badgeek/svg2shenzhen/releases and certainly Inkscape, too.
The unpacked files has to be copied to the extension folder of Inkscape.
The path to the folder is indicated in Inkscape in:
Edit → Preferences → System: User extensions

 $ cd ~/Downloads
 $ wget https://github.com/badgeek/svg2shenzhen/releases/download/0.2.15/svg2shenzhen-extension-0.2.15.zip
 $ cd  ~/.config/inkscape/extensions/
 $ unzip ~/Downloads/svg2shenzhen-extension-0.2.15.zip
---
Inkscape Extension
In Inkscape one find in Extension SVG2Shenzhen, there klicking on 1. Prepare Document an window opens. In that window one can type in the height and the width of the document that will be in the end the size of the finished board.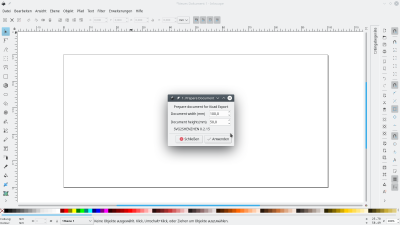 In my case it will be 100mm to 50mm. (1/3 of a Eurocard - 100mm x 160mm)
In Inkscape one should have now some new layers:

 Drill
 F.Silk-disabled
 F.Mask-disabled
 F.Cu
 B.Silk-disabled
 B.Mask-disabled
 B.Cu-disabled
 Edge.Cuts
 [[fixed]BG]
 Layer1
---
Layer Explanation
- Drill is for the drill holes
- F.Silk-disabled is the front silkscreen layer - the printed labels
- F.Mask-disabled is the front soldermask
- F.Cu is the front copper layer
- B.Silk-disabled is the back silkscreen layer
- B.Mask-disabled is the back soldermask
- B.Cu-disabled is the back copper layer
- Edge.Cuts is the layer for the outline of the board
- [fixed]BG] is the layer that makes sure the background is white - not needed
- Layer1 leftover from Inkscape - not needed

If one wants to use a specific layer one has to rename the layers without the "-disabled".

---
Drawing Rules
- drawings have to be in their specific layers
- 1 mm in Insksape will be 1 mm in KiCad
- path may have an outline and a filling
- colors will be ignored
- only rect, arc, and circle are supported, other forms have to be converted into a path
- in the Edge.Cut layer there has to be paths only with outline and no filling, don't use any groups
- in the the Drill layers use circles for the holes. These drills will not have any annular rings unless you add them to the F.Cu and B.Cu layers, don't use any groups

More tips and details are here https://github.com/mtl/svg2mod and here https://github.com/badgeek/svg2shenzhen

---
Workaround Inkscape
First make a Paper PCB:
- design the circuit on the F.Silk layer
- print and build a test board

If the circuit works fine one can make a Paper PCB Shenzhen version:
- move to F.CU layer on top of the F.Silk layer
- move the bridges from the F.Silk layer to the F.Cu layer
- make all drill holes (0.9mm) in the Drill layer
- copy all drill holes to the F.Cu layer and add a 0.6mm outline
- copy all drill holes to the B.Cu layer and add a 0.6mm outline
- copy everything from the F.Cu layer to the F.Mask layer
- copy everything from the B.Cu layer to the B.Mask layer
- export everything to KiCad files: in Extension SVG2Shenzhen klick on Export KiCad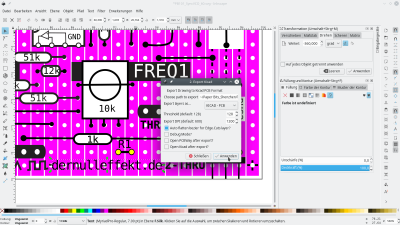 ---
Workaround KiCad
- open the new generated file in KiCad
- plott it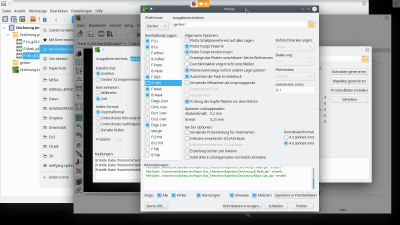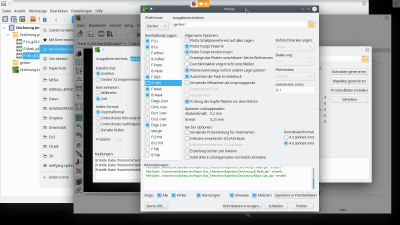 As a result one should get these files:
 .drl
 B.Cu.gbr
 B.Mask.gbr
 B.SilkS.gbr
 Edge.Cuts.gbr
 F.Cu.gbr
 F.Mask.gbr
 F.SilkS.gbr
Send these files to your favored PCB manufactory!
For example: https://www.allpcb.com/

---
Test